UPDATE APRIL 26, 2022.
Independent Electoral and Boundaries Commission (IEBC) has extended the deadline for naming running mates to May 16, 2022.
The decision came after IEBC met with representatives for political parties, including Raphael Tuju, (Azimio)
"Following the consultative meeting with political parties and independent candidates, the timeline to submit list of persons for President and Deputy President candidates and Governor and Deputy Governor candidates to the Commission has been revised to 16 May 2022," IEBC said in a Twitter message.
The deadline of other candidates, however, remains the same.
"The timeline for political parties to present names of persons nominated to contest in the General Election for Senator, County Women Member to the National Assembly, Member of National Assembly, and County Assembly Ward Member remains on Thursday 28 April 2022," IEBC said.
The new deadline gives the parties some much needed  breathing room to vet and negotiate among prospects while avoiding fallouts that could lead to high-profile defections.
But with IEBC setting the deadline for all other contenders besides running mates to submit their nominations by April 28, chances of late defections would be eliminated, leaving candidates with no choice by to stay put even if things don't go their way.
The Commission has today held a meeting with representatives from political parties and independent candidates to deliberate on the timelines for presenting the nominated Deputies for Presidential and County Governor elective posts #GE2022 pic.twitter.com/KTURJYpOEd

— IEBC (@IEBCKenya) April 26, 2022
PREVIOUS REPORT (APRIL 25, 2022)
Kenyans may soon know the identity of Deputy President William Ruto and former Prime Minister Raila Odinga's running mates if courts do not intervene and grant an extension.
The Independent Electoral and Boundaries Commission (IEBC) has set April 28, 2022, at 5 p.m. as the deadline for all Presidential and Gubernatorial candidates to submit the names of their candidates to facilitate the electoral process.
In a bulletin entitled "Statutory deadlines towards the August 9, 2022, general elections for political parties," the IEBC set April 28 as the last day for political parties to submit the names of their flagbearers. 
Azimio la Umoja-One Kenya Coalition and Safina Parties have protested the requirement calling it unconstitutional. The parties requested a meeting with IEBC early this week, but the meeting was moved to April 26 due to the ongoing state funeral in honor of Kenya's 3rd President, Mwai Kibaki, who died on April 21.
The Azimio la Umoja-One Kenya Coalition Party Secretariat in charge of selecting a running mate has promised to have a candidate by the deadline if IEBC does not provide an extension.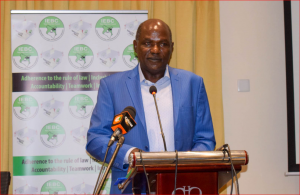 The requirement affects all candidates vying for an electoral position under a party and not just running mates. But running mates are unique in the electoral process because they're chosen directly by the candidate. Selecting a running mate is considered vital because it's the first executive action presidential and gubernatorial candidates make. 
Choosing a great running mate could juice up a campaign leading to victory. 
Azimio la Umoja and Kenya Kwanza have requested more time to vet their running mate prospects, but IEBC has refused to budge, making it certain the showdown will end up in court. 
Failure to name a running mate by the deadline could have heavy repercussions for the parties as IEBC has threatened to disqualify whoever is found non-compliant. 
Informal polls conducted on Twitter have found NARC-Kenya leader Martha Karua and former Vice President Musalia Mudavadi as the most preferred running mates for Odinga and Ruto, respectively. 
Karua has leap-frogged former Gatanga MP Peter Kenneth, long rumored to be Odinga's likely running mate. She is also besting former Vice President and Odinga's running mate Stephen Kalonzo Musyoka, who has openly demanded the position.
For Ruto, while naming Mudavadi as his running may seem obvious, it would come with the peril of losing support from Mt. Kenya, a region expecting to be rewarded with a running mate position in exchange of votes.
Leaders from the Mt. Kenyan region have openly told Odinga and Ruto, the top contenders for the job to name someone from the region or else forget their support. Odinga has made inroads into the region after gaining an enthusiastic endorsement from President Uhuru Kenyatta.
It's unclear whether Kenyatta will play a role in Odinga's DP choice.
However, the value of the Deputy President position is under the review of political analysts. The fallout between President Uhuru Kenyatta and his deputy has reduced Ruto to a second-in-command in name only and leader of the opposition within his government.