On the calm, sunny, gentle Thursday, the sunset for Mwai Kibaki, Kenya's third President, hurling the country into a period of mourning.
Kibaki died at 90, having served in the public and political landscape for more than half of his life. He traversed the mountainous, cool Nyeri District before he snaked his way to the City under the sun, where he sat in the August House for 49 years, before ascending to the house on the hill, whence he ran the country for ten years and retired before his soul got tired with life and bowed out.
Uhuru Kenyatta, Kenya's President, led the country in mourning Mwai Kibaki.
"H.E Mwai Kibaki led a dedicated life of public service. We salute a notable father figure in the chronicles of our Nation. A leader who strove so hard and accomplished so much for his country. A Nation he so deeply cherished and served with commitment and an unbending will to improve the lives of our people," President Kenyatta said.
Youngsters, women, and men from across the country have memories of Mr. Kibaki, pleasant and fearful.
Priscilla Wambua, a mother of three, remembers Kibaki as the President who gave her a chance to attend school for free.
"I may not have been among the first people to reap his free primary education policy, but I did benefit soon after it was introduced," Wambua said.
Wambua, a native of Kitui in the Eastern region of Kenya, said her mother could not have afforded to see her through education.
"I am the firstborn of my mother, who happened to be widowed quite early in life. She was struggling, and I could see, though I was young. So to us, the free education declaration was a godsend," she said.
Wambua sat her national primary examination (KCPE) in 2005. She progressed to a day secondary school in Mwingi before but didn't manage to advance any further. She runs a business in Mombasa's Spaki neighborhood.
On Friday, as soon as the death of Kibaki was announced, Jamleck Muturi, the chairperson of the Teachers Service Commission, led the teaching fraternity to mourn the late President.
"President Kibaki contributed a lot to Kenya's education. He, among other things, introduced two national high schools in every county, a thing that has brought better quality education to our children in the rural areas," Muturi said.
Muturi was speaking at this year's annual Kenya Secondary School Heads Association conference in Mombasa.
"Until 2006, the people of Matungu didn't know a highway. Not just in Western Kenya but almost everywhere else, the man gave a major boost to the country's infrastructure,"  Duncan Wanyonyi said.
Mr. Kibaki, a shrewd economist known for being 'stingy' with the national resources and hand-outs, has been lauded as the man who set the country on an upward trajectory.
"Kibaki didn't dish out money to the public as Moi did. He believed in people working to earn money," Duncan Wanyonyi, a lecturer at Kenya Coast National Polytechnic, said.
Wanyonyi, 50, says the first tarmacked road in his home village was built during Kibaki's first term.
"Until 2006, the people of Matungu didn't know a highway. Not just in Western Kenya but almost everywhere else, the man gave a major boost to the country's infrastructure," Wanyonyi said.
Perhaps Kibaki's greatest infrastructure is the 8-lane Thika Super Highway, which connects the Nairobi capital and Thika industrial town. The highway cost Ksh 32 billion.
He also expanded Kisumu Airport in Nyanza to an international airport. The lakeside airport handles 700 people an hour and has transformed business and air travel in the Western and Nyanza region. The project expansion took three years and cost Ksh 3 billion.
Mohammed Abdul, a businessman in Tudor, Mombasa, remembers the late President as the one who introduced the unfettered freedom of speech that Kenya enjoys.
"Moi used to harass and arrest people anyhow. You couldn't talk ill of Moi in public and go scot-free. But Kibaki didn't really care. He laughed off those who insulted him as pumbavu tu, takataka bure kabisa, etc. He didn't take things to heart," said Abdul.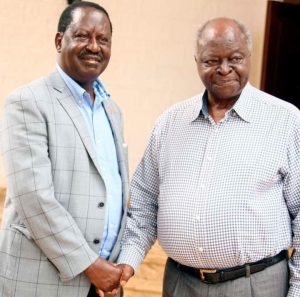 To some, the 2007-2008 post-election violence in Kenya is the biggest scar on Kibaki's tenure. Victims of the near-civil war national violence that erupted soon after the 2007 general election results blame Kibaki for the mayhem.
"Until today, I blame Kibaki for what I went through in the (Post Election Violence). It's in the public domain that he stole the win from Raila," Peter said.
Peter, 35, who preferred to use only his first name, lived in Eldoret when the turmoil erupted. He lost his business and escaped death by a whisker. He settled in Nakuru after the dust had settled.
"Until today, I blame Kibaki for what I went through. It's in the public domain that he stole the win from Raila," Peter said.
The chaos saw more than a thousand lives lost and more than 200 thousand people displaced. The mayhem ended when Mr. Kibaki and Raila Odinga reached a power-sharing agreement, making Odinga Prime Minister and Kibaki the President.
Raila mourned Kibaki as a president who was "in his best element, valued teamwork, and professionalism."
Ruto, who worked as the minister for agriculture and education, mourned Kibaki as a mentor and technocrat keen on details and service delivery.
"In his tenure, Kenyans were productive, that they earned better incomes, that government services and infrastructure actually reached and served them," Ruto wrote on Facebook.
Nevertheless, seemingly Kenyans chose to ignore the black spot (at least for now, or forever) and mourn the son of Gīthīnji Kibaki as a hero, statesman, economist, and pan-Africanist.
LIFE AND EDUCATION BACKGROUND
Mr. Kibaki was born in 1931 In Gatuyaini, Nyeri District, into a peasant family. To make ends meet, he worked as a carpenter, matatu tout, and casual laborer to support his family and education.
After his primary school education, Mt. Kibaki attended Mang'u High School and advanced to Makerere University in Uganda, where he graduated with first-class honor. He was awarded a scholarship and went to the London School of Economics to study economics.
Later, he returned to Makerere University and worked as a lecturer before joining Kenyan politics. In 1963, when Kenya gained independence, Mr. Kibaki was elected as a member of parliament. He later became a minister and vice president in President Daniel Moi's government.
Plans are underway to organize a state funeral for Mr. Kibaki, set to take place on April 30th.