Details of Mr. Pascal Odira Ndiege's final journey to Kenya have been made available to the public through a WhatsApp group created by his friends and relatives.
Mr. Ndiege's body is expected to arrive in Nairobi on April 23, where he'll rest until April 27. His body will be transported to Rusinga Island, his final resting place and will have an overnight stay at his residence, in accordance to Luo traditions before being buried on April 29th.
Mr. Ndiege's Final journey timeline:

April 14: Body Transported to Bedford Funeral Home in Texas.
April 21: Body to be transported to Nairobi, Kenya
April 23: Body arrives in Nairobi
April 27: Body to be transported to Rusinga Island
April 28: Body to lay in state at his home for overnight final respect
April 29: Mr Ndiege's body will be laid to rest
Mr. Ndiege's famous brother and Kenya's founding father Tom Mboya is also buried in a mausoleum in Rusinga Island. Mboya was assassinated on July 5, 1969 by a gunman who claimed the "Big Man" sent him. Many interpreted the "Big Man" to mean President Jomo Kenyatta, father to President Uhuru Kenyatta, Kenya's current president. At the time of his assassination, Mboya was serving as the cabinet minister for Economic Planning and Development. His death continues to dog Kenyans' minds wondering how Kenyan politics would have shaped up had he lived long enough to achieve his full potential.
Mr. Ndiege was the youngest and the last surviving among seven siblings, where Mboya was the eldest.
The other siblings in order of birth were as follows:
Tom Mboya
Regina Ndiege
Okuku Ndiege
Peter Ndiege
Atieno Ndiege
Odoyo Ndiege
Pascal Odira Ndiege
Mr. Ndiege was beloved by his community in Sacramento, Ca, and they took time to celebrate his memory on April 9, just a few days before his 70th birthday.
He died April 2, 2022 after a long battle with pancreatic cancer, which his family and friends say he endured bravely, not taking pity on himself or becoming a bitter. Messages of condolences have continued to flow in the WhatsApp chat started in his honor. In a rare show of love, despite his death, Mr. Ndiege's friends acknowledged in his birthday, sending him messages and wishing his a happy heavenly birthday.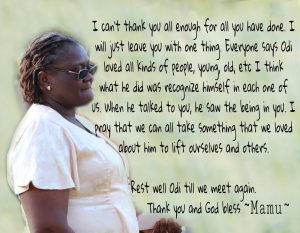 Mr. Ndiege, fondly known as Odi or OD, was widely known and beloved by Kenyans in Sacramento area. Right after news about his death emerged, friends from all Kenyan communities, joined together and formed a WhatsApp group and raised money to pay for the cost of his funeral.
They said Mr. Ndiege wished to be buried in Rusinga Island, Kenya.
Photos of Odi, with friends have emerged, showing him having a great time despite his terminal illness. They have also posted messages of support to his widow Mariam Ndiege, known fondly as Mamu.
Family friend Pinna Wasonga described Mr. Ndiege as man with the biggest heart, who braved through his terminal illness.
Wasonga wrote the following message for Mr. Ndiege and his widow, Mamu.
ABOUT MR. NDIEGE AND A MESSAGE TO HIS WIDOW
With great sadness, we announce the departure of Mr. Pascal Odira Ndiege, which happened in Sacramento on 4/2/22. He was a guy with the biggest heart. It didn't matter if a person was young or old; he got along with everyone.

He was getting ready to celebrate his 20th marriage anniversary next month, but God had other plans for him. We'll surely miss him.

My 2 daughters, Minna and Sabina, were flower girls at Od and Mamu's wedding. What a beautiful wedding it was!

The ever-smiling Od was always ready to help anyone in need. He always held his head high, we all worried about him and said all the prayers, but he always came up with very positive sentiments. He was strong and positive throughout his sickness, and he never gave up.

What made him even stronger was his beautiful wife, Mariam Ndiege, whom we fondly know as Mamu, who stood and walked with him all through his sickness.

Od always thanked and appreciated his wife on social media. He let everyone know how blessed and lucky he was to have Mamu as his wife.

Mamu, we are all here for you; we are a phone call away, we will walk with you, and always provide shoulders for you to cry. Thank you for being a strong and wonderful wife.

Od and Mamu were together till his last breath. He died in her loving arms as she comforted him.

Mamu, God will give you the strength you need, and may your darling husband's soul rest in peace.

— PINNA WASONGA

Mr. Pascal Odira Ndiege
Funeral arrangements are ongoing.
Organizers have scheduled a memorial gathering, dubbed Odi's Homegoing Potluck, for Saturday, April 9, from 1 p.m.
The potluck will take place at the following address:
12410 Peach Lane
Wilton, CA, 95693
Time: 1 p.m.
Note: We'll continue to update this story with the latest statement from Mr. Ndiege's family and friends.