After a meandering path to justice, where the first prosecutor stalled for more than two months before arresting his killers, Ahmaud Arbery's family finally found justice when a judge sentenced three Georgia men to life in prison for killing him.
In a powerful moment rarely witnessed in a courtroom, Judge Timothy Walmsley stayed silent for one minute, a fifth of the amount of time Aubrey spent trying to fend off and evade his killers.
"That one minute represents a fraction of the time that Ahmaud Arbery was running in Satilla Shores," Walmsley said before going silent.
The judge sentenced the father and son Gregory McMichael and Travis McMichael to life in prison without the possibility of parole. However, their neighbor, William "Rodie" Bryan Jr., was sentenced to life in prison with the possibility of parole.
Travis McMichael, 35, shot Arbery in February 2020 while his father Gregory watched from the back of his pick-up truck.
And in what might have made the most significant difference in the case, it's Bryan's, the McMichael's neighbor's phone video, that provided the public with the evidence of how Arbery was hunted down and murdered while jogging.
According to Georgia laws, Bryan, 52, will be eligible for parole after serving 30 years. Bryan's sentence surprised some especially considering he did not pull the trigger. But the judge said by using his vehicle to block Arbery's escape, he participated in the murder, and his actions qualified him to be guilty of a crime of felony murder.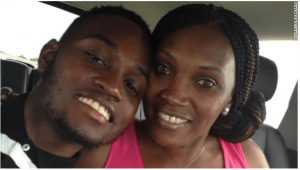 In November last year, a jury consisting of nine White women, two White men, and a black man found the three men guilty of murder, aggravated assault, false imprisonment, and criminal attempt to commit a felony.
The conviction came as a relief to many who thought the jury's composition with majority White people might favor the defendants.
Linda Dunikoski, Cobb county's senior assistant district attorney and lead prosecutor, earned praises for presenting a masterful case against the trio. She has asked the court to bar the convicts from profiting from their conviction or trial.
"[They]are not allowed to make any money off of their actions, such as a book deal, a movie deal, social media deal or anything along any way, shape or form make any money off of this experience, this conviction, and this trial," Dunikoski urged the court. "[If] any money be made, that it go into a fund for the Arbery family."
Dunikoski exposed the defendant's sense of entitlement and vigilanteism during the trial as they presumed Arbery as a threat even though they had not witnessed him committing any crime.
"Did Mr. Arbery reach into his pockets?" she asked.
Then she added: "Did he yell? Threaten you? He hasn't pulled out a gun? He hasn't said one word to you? He has not threatened you in any way – verbally or physically? No knives? He's not swearing at you or using profanity or anything like that, is he?"
Looking stunned on the witness stand in his defense, the younger McMichael responded "No" to all the questions.
As a final blow to demonstrate the McMichaels' criminal actions, Dunikokski asked, "he just ran?"
"Yes, he was just running," McMichael said, completing a testimony that showed the jury Arbery, who was unarmed, was at no point a threat.
In a bizarre twist, defense attorney Kevin Gough, appearing to appeal to the primarily White jury racial prejudices, urged the judge to ban Black pastors from attending the trial, which was open to the public.
"There's only so many pastors they [Arbery's family] can have. If their pastor's Rev Al Sharpton right now, that's fine. But that's it. We don't want any more Black pastors in here or others," Gough said.
Kevin Gough tells judge he has an issue with Black pastors coming to sit with Arbery family in court. "There's only so many pastors they can have. If their pastor's Rev Al Sharpton right now that's fine. But that's it. We don't want anymore Black pastors in here or others" pic.twitter.com/VIIGZYFBNq

— Hayley Mason (@HayleyMasonTV) November 11, 2021
CNN reporter Dianne Gallagher in the courtroom said Arbery's family had a muted response to the sentencing.
"Ahmaud Arbery's mother, Wanda Cooper-Jones, put her head down … His family was crying, his father, his mother, they were crying," shared Gallagher, adding, "There weren't outbursts, there wasn't a lot of audible emotion."
Attorney Benjamin Crump posted the following statement on Twitter:
Ahmaud Arbery's killers have finally been held to account – first by the jury and in today's sentencing. Thank you to all of the families of other victims that stood by Ahmaud's parents – This historic moment is for you, too. We demand NO MORE Black lynchings!
Ahmaud Arbery's killers have finally been held to account – first by the jury and in today's sentencing. Thank you to all of the families of other victims that stood by Ahmaud's parents – This historic moment is for you, too. We demand NO MORE Black lynchings! pic.twitter.com/qvfXC5RvsB

— Ben Crump (@AttorneyCrump) January 8, 2022
BACKGROUND
Arbery was fatally shot on February 23, 2020, while on a jog, after a confrontation with the McMichaels in Satilla Shores neighborhood in the city of Brunswick, Georgia. Gregory McMichael, a former police officer, and investigator with the local DA office said he and his son, Travis, pursued Arbery with an aim of conducting a citizen's arrest after they suspected him of being responsible for a string of burglaries that had rocked the neighborhood. But according to a CNN report, a Glynn County spokesperson said there had only been one burglary — a gun stolen from an unlocked vehicle in front of the McMichael's home– reported more than 7 weeks before Arbery's shooting.
The McMichaels also said Arbery was caught in surveillance video inside a home under construction, but the owner of the home told CNN, Arbery did not commit any crimes. Other surveillance videos showed multiple people trespassing the home under construction, CNN reported.
The case stalled after Brunswick Judicial Circuit District Attorney Jackie Johnson failed to take action immediately to prosecute. Johnson recused herself a day after the shooting citing her close working relationship with Gregory McMichael, a former investigator in the DA's office. But she did not send a request for her replacement until February 27th, creating an impression of a cover-up. Jackson was later indicted and arrested for her actions and charged with violation of her oath of office as a public official and obstruction of a police officer.
Johnson — on the day of the shooting — prevented two Glynn County police officers from exercising their duties "by directing that Travis McMichael should not be placed under arrest, contrary to the laws of said State, the good order, peace, and dignity thereof," the indictment said.
She denied any wrongdoing.
Wanda Cooper-Jones, Arbery's mother said Johnson should serve a jail term for her actions.
"She didn't pull the trigger, but she is just as much to hold accountable as the three guys who actually did this to Ahmaud," Cooper-Jones said.
It was not until May 5, 2020, that the video of the murder surfaced. The tragic 36-second video starts with Arbery jogging and ends with Arbery fatal shooting after a momentary struggle with Travis McMichael. Two day later, the McMichaels were arrested and charged with murder and aggravated assault.
Bryan was arrested two weeks later on May 21st on charges of felony murder, even though he had not pulled the trigger. According to Georgia state laws, a person can be charged with felony murder if found to have contributed to another person's death, even unintentionally.
During the investigations, Bryan told the police Travis McMichael said "fucking Nigger" after shooting down Arbery. McMichael denied making the racial slur. While the statement is racist, it did not carry any weight in the trial because Georgia does not have laws against hate crimes.
A mostly White jury was seated on November 3, 2021, causing anxiety in some quarters they'd favor the defense.
Cooper-Jones said she was discouraged by the composition of the jury, but she believed the state had a strong case and the evidence would produce a good outcome.
In the end, the race of the jury did not matter, a masterful prosecution and disastrous defense made it clear the defendants were likely to be found guilty.
Arbery was 25 at the time of his murder.