After leaving his lucrative post as Youth Director with the President's office to pursue his political ambitions, Walter Mongare Sr., aka Nyambane from his comedy days, is not in a hurry to share his next move. 
Still, one thing is for sure; he's not planning to join the big two political vehicles– Azimio la Umoja or Hustler Nation. 
Mongare is not a bandwagon kind of a guy. He believes in charting his path and going where others are too afraid to go. He has done it before. 
"This is not about following people to a place. This is about presenting ourselves for diverse thinking [finding] alternatives for the country so that citizens have an opportunity to see a buffet," Mongare said. "This is not a single-party approach in life; this is democracy."  
A CAREER IN COMEDY MADE MONGARE A BELOVED PUBLIC FIGURE IN KENYA AND BOOSTED HIS COMMUNICATION SKILLS
Mongare's life is a testament to enjoying the fruits of living in a democracy. 
As a leading member of Redykyulass, one of Kenyan's most famous and successful comedy groups, Mongare, playing the character Nyambane, also known as Toro, risked the ire of former President Daniel Arap Moi, poking fun of him.
In one skit titled Moi's Last Dance, Mongare showed his exceptional dancing skills, including a backflip, while he portrayed baba Moi as dancing various cool moves, including "ndombolo." 
The audience loved every second of the show.
Some thought the notorious Youth for KANU would make them disappear or face detention, but nothing happened. Redykyulass became so popular that some of his lines, such as "na hiyo pia ni maendeleo" delivered mimicking Moi's distinctive voice, with a dose of heavy comedic Kalenjin accent became part of regular Kenyan speech. 
Mongare revealed he never met Moi but said Moi perhaps found their comedy hilarious and may have directed aides not to bother them.
"Nasikia alisema wacha vijana watafute unga," Mongare said, revealing a softer side of the late President. 
Translation: let the youth make some money.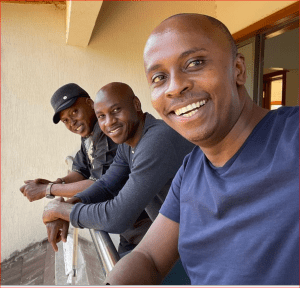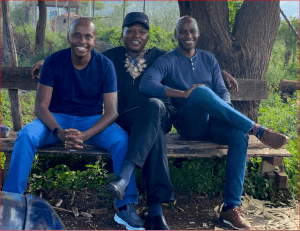 Through Redykyulass episodes, Nyambane and his partners, Tony Njuguna, who played former President Mwai Kibaki, and John K.J. Kiarie, who characterized former First Lady Lucy (Roosey) Kibaki and former KANU Secretary-General, Joseph Kamotho, revealed the dangers of an unaccountable president, surrounded by sycophants. 
"Art is a form of effective communication, and therefore an artist is a communicator," Mongare said, illustrating the power of his comedy that resonates with Kenyans to this day.
He argued that an artist, whether visual, painter, or musician, mirrors society and brings a unique perspective to every issue. 
Mongare and his comedy partners have maintained their friendship.
"We're a family," he said. "We may have different political ideologies, but we're still brothers."
But if Mongare moves forward with his plans not to join either of the two leading movements, he would find himself on the opposite camp with one of his comedy family members.
Kiarie, who joined politics several years ago, is now a member of parliament for Dagoreti South and is affiliated with Deputy President William Ruto's UDA party. 
A VISION FOR KENYA
Mongare described Kenya as a nation of strategic socio-economic importance crippled by leaders of low integrity and moral values.
"It's not we lack people of integrity, or we lack people with intelligence, it's that those of us who have that ability have relegated public service to people of low integrity and moral values," Mongare said. 
He said there are exceptions to the people who have given civil service a bad name.
"It doesn't mean there are no great people in the government, there are, and that is why the government is still functioning," Mongare said. "It's only that majority of us shy away from positions of public responsibility because of how it has been painted or carried by some people who have given public service a really bad image."
EXPERIENCE WITH WITH PRESIDENT UHURU KENYATTA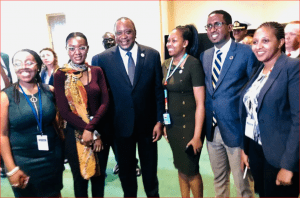 Serving as the Youth Director, advising President Uhuru Kenyatta, highlights his career. Mongare praised Kenyatta as a great leader who brought the best out of people and valued everyone around him. 
"Uhuru Kenyatta is a regular guy, who is the president. And he's a really great leader," Mongare said.  
Mongare recalled a moment when the President broke protocol to include the youth in his entourage instead of aides while attending a youth conference in New York City, NY, illustrating Kenyatta's people' s-person attitude. 
"He said, this is a youth conference, so I want to walk in with the youth," Mongare recalled. 
He said the President empowered him and made him comfortable by calling him by his first name, Walter, which made their relationship friendlier. 
"He is great at delegating and encouraging people to do things their way, and he's not a micromanager," Mongare said of the President. 
While the President has hinted at supporting his "handshake" partner and former Prime Minister Raila Odinga for the presidency, Mongare said he's not inclined to follow his boss's path, and he's certain Kenyatta won't hold it against him.
"I don't think my boss would have any problem with any decision that anyone would want to make. He's the kind of guy who trusts you with the decisions you have to make. His is to give you support," Mongare said.
According to Mongare, the President often checked in to see if he could do anything to assist them with their tasks.
"It's a very humbling experience to have a boss who calls you on a first-name basis," Mongare said. "And a guy whom, from nowhere, gave me an opportunity to be his adviser, and also to work in his office and be part of the team that developed youth interventions."
GEARING UP FOR LEADERSHIP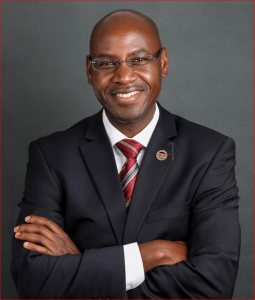 Mongare is ready to serve Kenya in an elected capacity. 
"My resignation is not resigning; it's actually accepting a new challenge that is bigger than all of us," he said. "Life is not about what you take home. Life is about what you give back."
He said his life experience had prepared him for the next challenge in life.
"I've learned enough. I've been a student of leadership for a long time. I have served in my own capacity, giving service to the leaders, and it's time that I gave myself [up] as a leader," Mongare said.
As a leader, Mongare hopes he'll allow the youth to advise him, just like he was allowed to advise the President and other leaders. 
ON THE KENYAN DIASPORA AND THE VOTER REGISTRATION EXERCISE
As a regular visitor to the U.S. and Europe, Mongare has a unique understanding of the complexities under which Kenyans in the diaspora live. He has played an active role in promoting the diaspora's interests especially voting rights. 
"Diaspora Kenyans are the kind of people with the first-hand experience that there is another life other than what we see in Kenya," Mongare said. They have seen systems that work. And therefore, it's time for us to bring back that expertise, that exposure, that knowledge level, that capacity, back to the country in order for us to accelerate our development."
While the remittances diasporans send back home help, Mongare said they only provided subsistence support to the country when Kenyans abroad could offer more resources.
Mongare took issue with the Independent Electoral and Boundaries Commission (IEBC) planning of the diaspora voter registration exercise, which ended as a fiasco, especially in the US where less than 700 Kenyans came out to be registered. He said while IEBC should be applauded for expanding the voter registration exercise to the diaspora, the effort required better planning.
"We cannot treat a population of Kenyans who work very hard and supplement the GDP by 3 percent as an afterthought," Mongare said. "More consultation should have taken place, a feasibility study should have been undertaken to establish where are Kenyans and how are their schedules and how can we meet them at their point of need."
He said IEBC should have looked for ways to bring their services closer to where Kenyans were and he hoped they'd start early after this year's election to register voters continuously through 5 years.
"They all have the right to vote. That's a right, it's not a favor we're doing," Mongare said.
Diaspora leaders are blaming the IEBC for the weak registration numbers saying the whole process was doomed to fail because IEBC never consulted anybody in the diaspora and failed to provide sufficient time and avenues to register.
BIG ANNOUNCEMENT COMING AT THE END OF THE MONTH.
While it's clear Mongare is running for elected office, he has not made it official what position he'll be seeking. 
He has promised to announce his next move by the end of the month.
Mongare joins any race with the advantage of instant name recognition, and fond memories in Kenyan's minds due to his early 2000 comedy role poking fun at the former President feared across the country.
Always in a cheerful mood, Mongare is likely to attract the youth who are not impressed by the current line-up of career politicians, whom they blame for the corruption and problems currently facing Kenya.