AUTHORS NOTE: DUE TO PAST THREATS THE NAMES OF THE ACCUSERS WILL NOT BE MENTIONED IN THIS REPORT
Several women accusing basketball coach Philip Onyango of sexual abuse met with Directorate of Criminal Investigations (DCI) officers this week to formally file their complaints.
Onyango allegedly sexually abused the women while under his care as their basketball coach in a period spanning almost 3 decades.
Allegations of sexual abuse against Onyango had simmered for years before it exploded on July 4, 2021, when a recorded conversation of a woman accusing Onyango of attempted rape went viral on social media leading to a petition asking for his sacking and arrest.
Onyango promptly resigned his position and was eventually fired by the Kenya Basketball Federation (KBF), where he served as a member of the executive board, and the Kenya Ports Authority (KPA), where he worked as a member of the technical bench, though not employed by KPA.
ATTENTION: Click the links BELOW to read our past stories on this matter:
The Nation Media Group, where Onyango worked as a journalist, also fired him, saying they do not condone sexual misconduct.
The woman said Onyango allegedly lured her to a Nairobi hotel with promises that he'd get her a spot in the KPA team and find a scholarship to play abroad.
But when she got to the hotel, she noticed Onyango had only booked a single room to be shared by both of them. She protested, but Onyango allegedly insisted.
Once in the room, which had only one bed, Onyango allegedly tried to force himself on her. When she refused, he became verbally abusive and allegedly told her she shouldn't expect to gain such opportunities for free.
Onyango has denied any wrongdoing and said the player was free to leave at any time and that nothing happened while they were in the room together.
His assertion of innocence does not explain away why he booked one room for himself and a female player.
An investigation into the incident did not find sufficient evidence to charge Onyango with attempted rape.
But lawyer Eunice Lumallas, representing the alleged victims, said Onyango was released because prosecutors filed the wrong charges.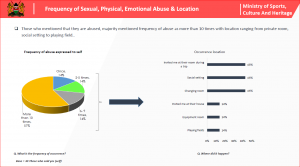 THE NDEREBA COMMITTEE
After the incident, Cabinet Secretary for Sports Amina Mohamed appointed a 9-member committee mandated to investigate gender-based violence in sports and the lack of inclusion of women in the top jobs within Kenyan sports organizations.
The committee headed by one of Kenya's greatest athletes, Catherine Ndereba, released its report on January 17 in a 3-day conference held in the Diani Beach Hotel in Kwale.
Unsurprisingly, the report, which surveyed 486 female athletes, most between 18 and 34 years old, found sexual abuse as the 4th significant challenge for female athletes. But 57 percent of the respondents cited abuse as their main challenge in participating in sports.
Coaches stood out as the biggest abusers.
Out of the respondents, 57 percent said they had experienced abuse from a coach. Abuse includes sexual, emotional, and physical abuse, including insults.
The women said the abuse frequently happened, with 57 percent of those surveyed saying it happened more than ten times.
Revealingly, the survey found abusers often invited their victims to their hotel rooms during a trip, in a social setting, or the changing room.
Researchers found 43 percent put up with sexual harassment. The top three forms of sexual harassment came in the form of comments about their attractiveness, 43 percent, pressure to date, and requests for a sexual relationship, tied at 29 percent.
The Committee came up with several recommendations, including creating gender-based violence awareness across all sports, set-up channels for anonymous reporting, and a prosecution mechanism.
DCI Investigators on the Onyango case will determine whether there's sufficient evidence to move forward with the case.
Onyango could not be reached for comment on the new developments.