Safari North Carolina 2021 golf season officially ended on October 10, but lasting memories will linger.
Officials say that despite bad weather forcing the cancellation of day one of the tournament, Safari NC 2021 finals was the best attended yet.
Tony Chavez of North Carolina won the lowest gross score and winning the men's championship. Angela Mwai, visiting from Kenya, took home the women's championship trophy.
Men's runners up for net and gross were Philip Mwai and NC Captain Eric Huruko, respectively.
Last year's champion Samuel Mwaura, from Seattle, Wa., took home one of the closest-to-the-pin trophies. The second trophy in the same category went to David Njeri of North Carolina.
Charles Kalimba won the Lowest net score. The lowest net score is awarded after factoring in players' handicap ratings.
Some players walked home with cold cash in their pockets. In the Mini Master Pool, Kalimba struck again, raking in $400 cash. There was a tie in the skins pool. Chavez and Al Waweru each fed their wallets $390.
Trophy presentation sponsored by Africa Welfare Association (AWA) took place at Riverwood Golf Club patio in a relaxed and festive atmosphere.
The patio area exploded with laughter when the officials went back to double-check some results to ensure they had it right; someone in the crowd yelled, "open the servers!" The inside joke stems from the last Kenyan general elections, where allegations of vote-rigging prompted calls for forensic vote audit of the computer servers used to tally up the ballots.
Mike Ndario from Washington DC, the winner of the longest drive contest, took in some good teasing. As he came forward to claim his trophy, other golfers yelled, "pee in the cup, pee in the cup," a mock protest teasing him that he may have used performance-enhancing stimulants empowering him to hit the ball at the winning distance of 325 yards. Lucky for him, the anti-doping officials were not present at the club. He laughed at the joke, waved them off, and appeared to lift the glass trophy a little longer, beaming with pride.
Golfers were treated to another light moment when the MC called Angela's Mwai's name. Not expecting to win anything, Mwai, seated at the front table, looked backward, expecting to see somebody else stepping up, only to realize she was the champion.
A look of puzzlement crossed her face when she finally realized she had won. She stood up with exuberance and laughed her way to receive her trophy.
Six chapters, composed mainly of Kenyan golfers, sent a team to the tournament. They're North Carolina Safari, Washington DC, Delaware, New Jersey, CenCal, and Boston.
Huruko said he's looking forward to the next season, scheduled to start in April 2022.
SAFARI GOLF SEATTLE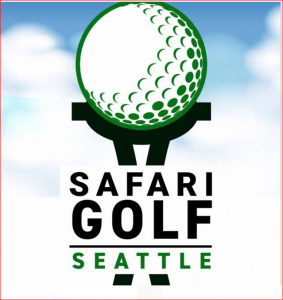 The Safari Golf Seatle chapter also wrapped up its season on October 9, and in short, order released the calendar and announced officials for the 2022 season.
Seattle's team leader Joe Karasha said they had a successful season, and the club has grown to almost 40 members, including women.
Karasha said the team played a scramble game in the just-concluded tournament, where teams competed against each other.
"While it's a tournament, we wanted people to have fun as well. That's why we made it the best ball game," Karasha said.
Only the first and the last tournaments are scheduled to be scramble team play in next year's schedule. Matches between May and September are set to be stroke play, which means every player must maintain their scores and every stroke counts.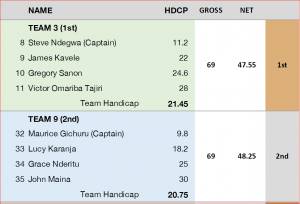 Nine teams, composed of 4 players each, except one (Team 2), which had 3 players, participated in the tournament, totaling 35 players.
The top team posted a gross score of 69 and a net score of 47.55. The team captain was Steve Ndegwa, and the team handicap stood at an average of 21.45. The second-best team under Team Captain Maurice Gichuru was not far behind. They posted a respectable net and gross score of 48.25 and 69, respectively. The team had an average handicap of 20.75.
While most of the players were of Kenyan origin, the tournament was open to everyone, and it attracted a diverse group of players.
Players shared appreciation for the club.
"It has been a wonderful joyful experience that I have had with SGS," Simon said. "Looking forward to the upcoming golf season as a new member of SGS. My genuine thanks to all for welcoming me with the open arms."
The tournament took place at Druids Glen Golf Club in Covington, Wa., which overlooks a great landmark in the US.
"Love that it has Mt. Rainier as its backdrop! That's a view from hole 6," Joe Karasha, one of the organizers observed.
As winter approaches, golf clubs are winding down and hosting final tournaments. But if you're looking for a last stand, the Murambatsvina Classic Golf Tournament is coming up in Las Vegas, Nv., on Nov 5 and 6th at the Las Vegas Paiute Golf Resort.
The registration deadline is October 20, 2021. To register, visit www. aaglasvegas.com.
Disclosure: I and some of my relatives participated in the Safari NC 2021 tournament. While I have tried to minimize featuring them, a few moments captured in photos could not be avoided because of their newsworthiness.