In a dramatic turn of events, rival Stephen Kalonzo Musyoka, the sole holdout among Kenyan top-tier likely presidential candidates, succumbed to political pressure and declared "Raila Tosha," endorsing the former prime minister's presidential candidacy under Azimio la Umoja Movement ticket.
"There comes a time when the Nation is more important than the individual"… such a time has come, and Kenyans have said: "@RailaOdinga Tosha for the third time!" We listen to you. #HakikaTutaweza," Musyoka said in a Twitter statement.
The move comes after months of back-and-forth between Musyoka and former Prime Minister Raila Odinga, negotiating an agreement. Many thought Musyoka, nicknamed "watermelon" because he's perceived to be soft and indecisive, was once again plotting to betray Odinga, as it happened in 2007 when he jumped ship and joined former President Mwai Kibaki's camp.
Despite four attempts, Odinga, who many consider a master politician, has narrowly missed out from winning the presidency. In 2007, his defeat, which many supporters viewed as a result of rigging, unleashed violence across Kenya, bringing the country to the verge of a civil war.
In a brokered deal facilitated by former UN Secretary-General Koffi Anan, Odinga, and former President Mwai Kibaki brought the two rivals together in a unity government, where Odinga became the prime minister.
Odinga now appears to have cobbled together one of the most formidable political coalitions in Kenya's history.
His fortunes dramatically changed in April 2018 when he and President Uhuru Kenyatta publicly shook hands in what has become known in Kenya as the "Handshake Moment." The handshake ended their bitter rivalry between the two sons of Kenya's founding fathers, Jomo Kenyatta and Jaramogi Oginga Odinga. Kenyatta credits the handshake for the success of his second term.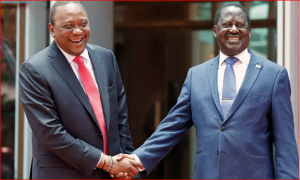 The handshake puzzled many Kenyans. On January 30, 2018, Odinga had engaged in a swearing-in ceremony presided over by fiery Kenyan lawyer Miguna Miguna, where he took an oath to serve as the people's president in the presence of thousands of his adoring supporters gathered at Uhuru Park in Nairobi.
Odinga and Miguna have since had a public falling out. Miguna published several books criticizing Odinga, whom he regularly calls a conman for joining a coalition of sorts with Kenyatta.
While Kenyatta embraced Odinga, his relationship with Deputy President William Ruto deteriorated thanks to the handshake.
Ruto has criticized the alliance between Odinga and Kenyatta as harmful to Kenya's democracy. He said the handshake destroyed the opposition and removed a checks-and-balances system that led to rampant corruption within the government.
Ironically, Ruto is the one being accused of masterminding the corruption he's lamenting over. Odinga, Kenyatta, and other leaders aligned to Azimio calling him a thief and asking him to disclose the source of cash he dishes out in harambees.
Speaking in a rally in Kisumu, Odinga challenged Ruto to explain how he could afford to dish out Kshs 100 million (approximately $1 million) monthly when he draws a salary of Kshs 2 million (approximately $20,000) per month.
The Azimio la Umoja movement now brings together a formidable team drawn across every region of Kenya. With Kenyatta's support, Odinga has found inroads into the Mt. Kenya region, an area that has traditionally refused to vote for him.
But despite Kenyatta's support, there's still some discomfort and skepticism in Mt. Kenya about Odinga's presidency, some tracing as far back from the rivalry between the founding fathers, Jomo and Jaramogi.
The hesitance in supporting Odinga in Mt. Kenya gives Ruto a fighting chance if only he could summon up some allies from the region with clout.
A source familiar with the dynamics of Mt. Kenya politics said a significant population, especially those in Nyeri and aligned to former President Mwai Kibaki, are not yet on board with the idea of an Odinga presidency. Some call him "guka," grandpa in Gikuyu because of his advanced age.
At 77, Odinga would be the oldest person to become Kenya's president. Kibaki became president at 71 and Jomo Kenyatta at 69. Kenyatta served 15 years as president until his death at 84.
US President Joe Biden was elected at 78, and Nelson Mandela became South Africa's first Black president at 75.
Despite his age and the torture he endured during years of detention, Odinga appears mentally alert and seems well-adapted to the grueling campaign schedule.
The Mt. Kenya vote stands out as the swing vote in the August 9 elections due to the lack of a presidential candidate from the region. And owing to the tribal nature of Kenyan politics, the two presidential candidates, Odinga and Ruto, must seek alliances with other communities in Kenya.
With Musyoka joining Odinga, Azimio has gained all the top-tier leaders in the Eastern region, including Governors Charity Ngilu, Alfred Mutua, and Kivutha Kibwana, and effectively locking out Ruto.
Kenyatta's backing of Odinga has denied Ruto the star power he counted on to command votes from the Mt. Kenya region. But he has attracted a group of young surrogates who have refused to cede ground and are taking the fight to Kenyatta.
Led by Nakuru's Senator Susan Kihika, they have accused Kenyatta of breaking his promise to Ruto that once he served his two terms, he'd back Ruto to serve two terms as well.
Others from the Mt. Kenya region supporting Ruto include former Kiambu Governor William Kabogo and Bishop Margaret Wanjiru.
The Ruto camp has dismissed Odinga as Kenyatta's project, a toxic tag reminiscent of the 2002 presidential election where President Daniel Arap Moi inexplicably chose a young Kenyatta to be his successor.
But the tag is unlikely to stick because Odinga is a known quality as a leader. Unlike Kenyatta in 2002, who had not served in any political post, Odinga has served as Kenya's prime minister, opposition leader, minister, and MP.